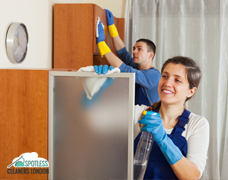 More often than not, after the builders there is plenty of filth, dust and dirt everywhere in the property. There can also be paint on the floors and skirting boards, construction remains in some rooms, and cement plaster near and on windows. Cleaning the property after builders is a tough job but we will readily get it done for you, as our company is a specialist in builders cleaning and we have worked on many cleaning projects so far. With our vast experience we can offer you a one of a kind, first-class service in London without extra or hidden charges. We are flexible and responsible. Below you can learn more about our company.
Experienced Builders Cleaning
Our company covers London. We have offered our professional builders cleaning services for a long time. Therefore we have gained lots of experience, which is crucial for our success. Our team consists of hard-working, certified, loyal and skilled cleaners who are experts at builders cleaning. They can clean your property to perfection, leaving no trace of dust and filth behind.
At our company each and everyone of us is:
Flexible
Loyal
Expedite
Friendly
Professional
Experienced
It is difficult to deal with the mess that remodelling creates. Sometimes builders leave behind cement plaster, paint, debris along with huge amounts of dust. Cleaning the whole mess can take weeks but if you hire our teams of professional cleaners, we can get the job done in a day, saving you weeks of hard work and torture. We will restore the shine to your property, making it look just the way you want it.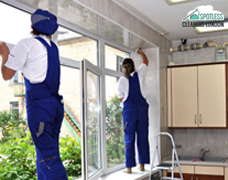 Here is what we do: cleaning kitchen (cabinets, countertops, sink, appliances), cleaning bathroom (tiles, toilet, sink, mirror, tub), cleaning skirting boards, ceilings, walls, switches, window sills and frames, removing plaster and paint, mopping all floors and hoovering every room. And finally, we make sure that the place is free of dust. Our job includes cleaning and disinfection of all surfaces, de-scaling and de-liming, scrubbing procedures where applicable, etc. We use the best cleaning solutions and machines that help us provide the best results possible. In addition to the tasks mentioned above, we also clean or wash tables, wardrobes, showers, fridges and ovens, doors. Using family-friendly cleaning products we will leave a fresh smell in your home.
Before cleaning commences we can help you to move some of the stuff away so that we can clean without any disruptions. We ask you to call us in advance should you need builders cleaning in London so that we have enough time to give you a quote and prepare ourselves. We promise to pay you a visit as soon as we can. This depends largely on how many appointments we have for that day. Just so you know, we work flexible working hours, which means holidays and weekends are also included. We believe it is our company you need. Make sure to get in touch with us.