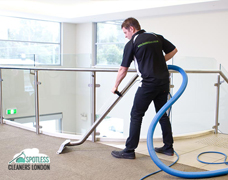 With their fluffy fabric, carpets can stain pretty easily. They attract dirt, bacteria and soil all the time when you walk on them or when your kids play on them. Many people neglect their carpets and when they show the first signs of wear, they usually turn to us in the hope that we will salvage them. This is the best they can do. Our company is a pro in carpet cleaning and we work hard to please every client in London. We are extremely devoted to cleaning and we go out of our way to create the desired results. If you want to clean your carpets in a professional way, call the pros of our company. Dial this number to get in touch with us.
Professional Carpet Cleaning
At our company every worker is certified and experienced and all the products we use are free from harsh chemicals. We offer a completely effective, reliable and professional service that covers, London. Do not hesitate to choose our company for any carpet you want to clean and disinfect.
The process of carpet cleaning includes the following stages:
Inspection
Pre-treatment
Hoovering
Steam cleaning
Drying
The inspection is necessary, no matter how old the carpet is. We need to determine which areas have worn out and to pre-treat the ones that receive heavy traffic on a daily basis. We also have to pre-treat stains. Some stains and spots are so stubborn that they require some serious work in advance. We use stain removers. After that we hoover the fabric well to get rid of large debris and particles, soil and dirt.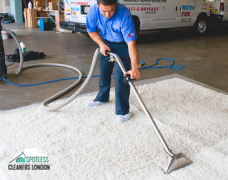 arpet outside and we don't want you to bring your carpet to our office. On the contrary, all the steps are conducted on spot.
Which is why we suggest that you move away all the stuff that is positioned near the carpet to make it easy for our cleaners to do their jobs. Second, we work 7 days a week and are available on bank holidays as well. Last but not least, we use our own equipment. It comprises numerous effective cleaning solutions, which are nature-friendly, and a few steam cleaning machines, which provide amazing results. We take pride in our staff and are very results-oriented. If you want to use our carpet cleaning services in London, you only have to dial our number and tell us all the details. We will help you out. Get a no-obligation estimate.