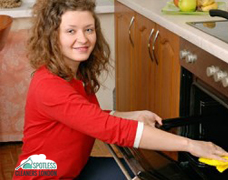 Our company provides cleaning of different appliances including excellent oven cleaning as well. The cleaners are qualified and professionally trained to sanitize all brands and models of ovens. The cleaning takes a few hours, depending on the condition of the appliance. It is done using special detergents and cleaning equipment. To be sure that your oven will be used long time and function properly, use our affordable oven cleaning, available in all London areas. The oven cleaning which we provide is professional and done at a reasonable price. Call us and order it any time or use our online booking form to schedule it.
Comprehensive Oven Cleaning
The comprehensive oven cleaning which we provide includes:
Removing of stains of every origin
Inside and outside thorough sanitizing
Cleaning of these oven components: racks, filters, hobs, grills, extractors
Removing grease and stains from all components, inside and outside oven surfaces
Using effective, specially designed for ovens cleaning solutions
The cleaning will start from the inside of the oven by removing all items which are inside the appliance. The cleaners will take out the racks, thermometers and pizza stones from the oven. Then, they will apply special oven cleaning solutions which effectively remove stains, grease and food deposits. The cleaners will leave the detergent to work for some time and clean the other components of the oven like the rack.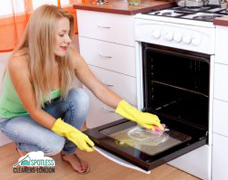 After they remove all the stains and grease from the removable parts of the oven, they will wipe and sanitize inside the oven. The cleaning staff will gently scrub the inside area of the oven, making it shiny and spotless. The cleaning will continue with scouring the external oven surfaces and areas.
Use our services to ensure the excellent condition of your long time used oven. The oven cleaning which we provide in London is affordable and done by qualified cleaners. They have attended professional training and use the most effective detergent, solutions and stain removal products.
All of our employees use modern oven cleaning equipment which eases their work and guarantees professional results. If you order our oven cleaning service, your oven will be sanitized and wiped clean till all stains are thoroughly removed. The cleaning will take no more than a few hours. It may take a little longer or less time, depending on the condition of the appliance. If you rely on the cleaners who work in our company to provide the oven cleaning which you need, you will be very content with the results. They will wipe the inside and outside surfaces of the appliance, removing all stains and grease from it. The solutions and detergents which we apply are harmless for the health but very efficient in stain removal, eliminating grease and food deposits. Get in touch with us to order the oven cleaning which you need that we provide in London. You can use our booking form, e-mail or customer care centre to do this. We work every day of the week.