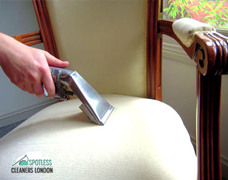 The regular vacuum cleaning of your sofas and armchairs is not enough to maintain them in good condition. The hairs, allergens, pets, accumulated dust and wear and tear can damage your upholstery. That's why professional upholstery cleaning is necessary to ensure the long usage of your furniture. Use our excellent upholstery cleaning services to maintain your sofas and armchairs in better condition. The cleaning experts will take care of your upholstery, removing the stains, dust, hairs and allergens from it. Use our reliable upholstery cleaning services, available in London seven days in the week. They are provided at reasonable prices and done by qualified cleaners with advanced steam cleaning machines.
Professional Upholstery Cleaning
You can use our excellent upholstery cleaning services which include the following procedures:
Close inspection of the upholstery
Removing every obstinate stain and dirty spot
Steam cleaning for full disinfection of the sofas and armchairs
Deodorising the upholstered furniture
Final inspection of the cleaned sofas and upholstered furniture by the customer
After the cleaners sanitize the upholstery, it will be in the same spotless and flawless condition in which it was when you bought it. The cleaning experts will remove all stains and spots after they inspect the upholstery. They use effective stain removal detergents which are absolutely non-toxic. The steam cleaning machines which our employees use in their work are advanced and disinfect the upholstery in depth.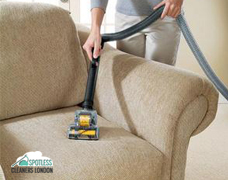 The cleaners will remove the hairs, allergens, dust and grime from the fabric of the upholstery. Then they will deodorize the cleaned furniture and let the customer see the results of their work. Order the professional upholstery cleaning which we provide for the residents who live in London and leave the rest to our team of experienced cleaners. You can be sure that no matter of how delicate fabric your furniture is made, our upholstery cleaning won't damage it. The cleaners will use the most appropriate cleaning products and machines to disinfect the fabric and restore its glamorous appearance.
They will remove the dust, stubborn stains, allergens and hairs which had stuck deep in the fabric of your upholstery. After steam cleaning your sofa and armchairs, the cleaning personnel will deodorize them. The steam cleaning is highly effective method and the results of it will certainly impress you. After we deodorize your upholstered furniture you can use it right away.
Being used daily every upholstered items sooner or later becomes filled with dust, hairs and stains and need to be cleaned properly. If you rely on our company to provide the professional upholstery cleaning which you need, you can be sure that your sofa will look much better. We will bring back its original colour and refresh it so, that you won't recognize it. The steam will thoroughly disinfect its fabric and extract all the grime which it had accumulated. Order the upholstery cleaning which you need, provided by our company located in London. We work every weekday and weekend including at bank holidays.