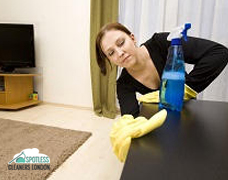 If you need professional and thorough cleaning of your flat, use our services. The cleaners will come and check the condition of your property to estimate the cleaning methods and techniques which will be necessary. The flat cleaning which we provide to the residents of London guarantee excellently sanitized rooms at affordable prices. The cleaners will take care of the windows, floors, kitchen and bathroom, remove the dust and vacuum all surfaces. Use our inexpensive and reliable flat cleaning any time when you need this service. Our customer care centre is at your disposal for more information and help.
Flawless Flat Cleaning
Our flat cleaning currently includes the following cleaning procedures:
Window cleaning
Thorough bathroom cleaning
Kitchen cleaning
Mopping of floors
Vacuum cleaning different surfaces including floors
Wiping the dust in all areas found
The flat cleaning which we provide us done with the help of modern machines and carefully chosen sanitizers and detergents. The cleaners use harmless for the environment detergents to scrub the windows and soft towels to wipe the dirt from them. First they spray the cleaning product over the glass and leave it for some time. Then after a while, the cleaners wipe the detergent, removing the dirt from the window with a clean towel. After the procedure is completed, they inspect the window and if they find any stains repeat the same steps until the windows become perfectly clean.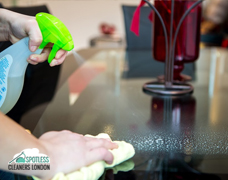 The cleaners will hoover the floors to remove all dirt particles using specialised machines. After that, they will mop the floor area with the most suitable type of mopping instruments. They will leave your floor perfectly clean and dustless. Use our professional help to ensure the thorough and excellent flat cleaning which we provide in London. The vacuum cleaning machines that our employees use will remove the grime from all areas and rooms. The cleaners in our company use microfibre towels to remove dust from all surfaces. Microfibre gathers all the dust particles and removes them effectively and fast.
Our flat cleaning includes thorough and detailed cleaning of bathroom and kitchen areas. The cleaning staff will disinfect and de-scale the sanitary ware, bathroom floor, sanitize the sinks, taps, shower, extractor fan. The cleaners will remove the grease and stains from the cooking, washing and cooling appliances, scour the kitchen furniture and sink. The flat cleaning which we provide to the London residents will ensure you the peace of mind that your rooms are sanitized properly and well.
The cleaners who work in our company are qualified, skilful and professionally trained. They are supplied with excellent quality machines and detergents which facilitate their work and deliver the desired results. Use our customer support centre to schedule the flat cleaning which you need and you will be pleased with our work. Our company works seven days in the week for the convenience of the customers. Order the flat cleaning which we provide and leave the rest to the professional cleaners in our company.