Sick and tired of washing dishes, changing linen, scrubbing tiles and cleaning toilets? Then stop. With our professional help you won't have to do a single chore anymore, all we need is your call.
We offer professional house cleaning services exclusively in South Kensington. Our house cleaning services are wallet-friendly and dust-hostile. We will clean your home top to bottom, left to right, quickly and efficiently. If you book our professional house cleaning services, you won't regret it.
We have a professional team of experienced technicians ready to eliminate even the tiniest speck of dust from your home. They will clean your windows and furniture and that's not all – they will thoroughly clean your kitchen appliances and polish your silverware. We're positive you won't find a cleaning company offering better performance-price ratios in South Kensington than us.
Diligence and professionalism
We understand how important it is for you to have a clean and presentable home at all times and that's why we'll stay in your property as long as we have to in order to deliver the cleaning services you deserve – only the best.
We are especially proud of our cleaning technicians. They are experienced in the field of house cleaning, know backwards and forwards and we guarantee that each of them has a clean criminal record. With us you get:
A timely cleaning service
Emptying of bins and changing of linens
Thorough polishing of floors and scrubbing of tiles
Cleaning the outside and inside of cupboards and other furniture
We even provide our clients with a guarantee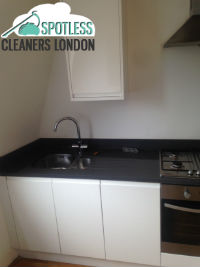 Even though we know that we're the best, we know that we're only human and humans can make mistakes. That's why we promise our clients that, should any problem occur, within 48 hours we will come back and re-clean and it'll all be free of charge.
There really isn't a more diligent and more honest professional house cleaning company in South Kensington than ours. We are available throughout the week, including on bank holidays, you can book us wherever you need us. Rely on us to keep your home bacteria and dust-free.